For three days, the event will turn Barcelona into an international business hub for the seafood sector.
Barcelona – 14 November 2019 – Diversified Communications, organiser of Seafood Expo Global/Seafood Processing Global, gave a presentation about its 29th edition this morning in Barcelona. The three-day event will take place in the city for the first time on 27-29 April 2021, bringing with it an estimated economic impact of more than 100 million euros annually for Barcelona, considering the economic impact on restaurants, hotels, transportation employment, shopping and activities in the city.
After 28 years of being hosted in Brussels Expo, in Belgium, the world's largest trade event in the seafood industry will move to the Gran Vía venue of Fira de Barcelona, where it will bring together more than 29,000 professionals, including visiting companies from 155 countries and over 2,000 exhibitors from 89 countries. Year after year, the event breaks exhibition space records and in the 2019 edition, it covered 40,625 m2 of sold exhibit space.
The event's main value is its global strategic positioning. Seafood Expo Global/Seafood Processing Global is the largest and most important international event for the seafood industry and encompasses all aspects of the chain of supply.
"Businesses in the city will benefit from the opportunity of a global event the size of Seafood Expo Global and Seafood Processing Global. The event will have a positive effect on the local economy and for three days, Barcelona will be the hub of the seafood industry at a global level," said Liz Plizga, Group Vice President, Diversified Communications. "Celebrating the event in Barcelona will also attract the attention of the industry on a national level. Spanish exhibitors will have the opportunity to meet international buyers who are looking for their products. The event is an essential part of any seafood business aiming to expand globally," she added. 
Positive expectations for the 2021 edition in Barcelona
The decision to move to Barcelona is the result of a comprehensive market study based on the opinions of exhibitors and attendees conducted over several years and of an analysis of Europe's main destinations. "We chose Barcelona based on the size and capabilities of the city as a major international destination for trade events, its robust hotel offering, and Fira de Barcelona for being a modern and innovative venue, – both offer our event long-term growth potential. Furthermore, Barcelona is a world gastronomic capital, a major seafood hub in Europe and has a historical relationship with seafood and fishing industry," Plizga explained.
"The trade fair has grown year after year, and this being the first time we're moving our global event to another city in 28 years, we expect to increase the number of exhibitors and visitors with its landing in Barcelona," Plizga commented. "Clients have already shared with us their enthusiasm about the move and many companies have confirmed their interest in enhancing their participation in the 2021 edition."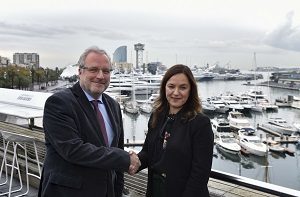 For his part, Constantí Serrallonga, CEO of Fira de Barcelona, emphasised that "we are very pleased to host the largest world event on seafood, which enhances the positioning of Barcelona and Fira as an international reference event destination." In this sense, he added that the arrival of this new exhibition "will also strengthen the role of the city and the institution around the food industry, joining other major events in the sector that we already organize, such as Alimentaria, Hostelco or the Forum Gastronomic."
The largest seafood products global event
Seafood Expo Global/Seafood Processing Global presents a clear international outlook, faced with the expectation of bringing together exhibitors from 89 countries and buyers from about 155 countries. About 79% of the world's countries will be present in the event, which will also host pavilions representing 74 national and international nations and regions.
Suppliers and buyers alike will attend three intensive days of business, networking, seeking new products and learning about the latest trends in the market. The trade fair will attract both vendors and seafood industry buyers from retail, supermarkets, hypermarkets, traders, importers, distributors and wholesalers, and from the HORECA industry, including top high-volume retail and HORECA buyers who take part in the Key Buyer Program organised by the trade fair.  This is the event where buying decisions are made during and after the event.
The more than 2,000 exhibiting companies from 89 countries will present the latest novelties in not only seafood products, but also machinery and services for the seafood industry. On the one hand, Seafood Expo Global will bring together providers from all over the world who will present their latest seafood products: fresh, frozen, canned, added-value, processed and packaged. On the other hand, Seafood Processing Global will offer visitors all necessary aspects for processing seafood, cooling and freezing equipment and supplies, primary processing equipment, secondary processing equipment, hygiene control and sanitation services, and quality assurance, among others.
You can find out more information about the event's new location in 2021 through the following link: https://www.seafoodexpo.com/global/2021-Barcelona
About Diversified Communications
Diversified Communications is an international communications group with a portfolio encompassing trade fairs, events, online communities and both printed and digital media outlets. As organisers of leading products in their fields, Diversified Communications connects, educates and strengthens business communities in more than 15 industrial sectors, including food and beverages, healthcare, natural and organic, business management and tech. Their portfolio of global events and publications about sea products includes Seafood Expo North America/Seafood Processing North America, Seafood Expo Global/Seafood Processing Global, Seafood Expo Asia and SeafoodSource.com. Founded in 1949, based in Portland (US) and with offices all over the world, Diversified Communications is a private third-generation family business. For more information, visit: www.divcom.com
About Fira de Barcelona
Fira de Barcelona is the leading fair organiser in the Spanish market and one of the most important ones in Europe, especially in the field of professional and industrial trade fairs. Its Gran Vía and Montjuïc venues host about 150 trade fairs, conventions and corporate events a year, which attract more than 30,000 direct and represented companies and receive 2.5 million visitors from 200 countries and territories. They host benchmark events such as Mobile World Congress, Alimentaria or Smart City Expo World Congress, among many others. Fira is also carrying out a growing number of activities abroad by co-organising trade fairs especially in Latin America and Asia, as well as offering trade management consultancy services.
Media contact:
Christine Pedersen
Marketing Director
Diversified Communications
cpedersen@divcom.com
+207-842-5488
Spanish media contact:
LLYC
Laia Jardí / Mireia González
ljardi@llorenteycuenca.com / mgonzalez@llorenteycuenca.com
+34 660 201 020