Bekina Boots Exhibitor News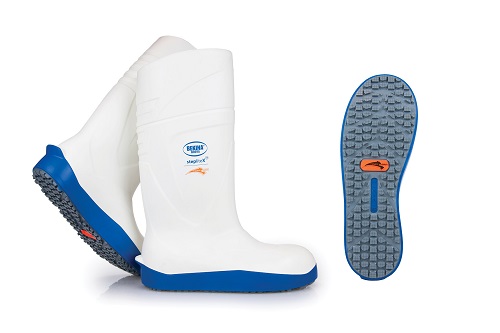 Kluisbergen (BE) – Bekina Boots shows a prototype of the new safety boot for the food industry at Boston Seafood 2020: the StepliteX TigerGrip with steel toe cap. The boot is a co-branding between Bekina Boots and the French company TigerGrip. Needless to say, the food industry is one of the most demanding sectors when it comes to hygiene and occupational safety. The sector not only guarantees food safety; employers also benefit from ensuring safe working conditions for staff. The StepliteX TigerGrip provides an answer to both of these focal points. This extremely slip-resistant boot with rubber outsole and self-cleaning sole profile will be available on the market end of 2020/early 2021.
Avoid workplace accidents and save money
15% of the accidents at work in the food industry are caused by slipping, tripping and falling. The StepliteX TigerGrip non-slip boot is equipped with a rubber TigerGrip sole with a unique sole profile. Most importantly, the unique composition of the rubber compound, combined with the shape and geometry of the sole plates, ensures extremely high anti-slip properties. Together with the built-in drainage channels in the outsole, this ensures very good adhesion of the TigerGrip sole to smooth surfaces. This prevents injuries and absenteeism and ultimately avoids useless costs.
Food safety and hygiene
The sole profile of the non-slip sole is self-cleaning and dirt-repellent. The original positioning of the cleats on the foot of the sole simplifies the cleaning and disinfection of the sole which contributes to food safety. After the production of the boot a 'curing period' of at least 24 hours follows. During this period, the boots hang in a rack and a second and protective skin forms over the shaft. This second skin is smooth and therefore easy to clean and disinfect. The smooth polyurethane shaft of this boot is resistant to oils, fats, blood and chemical cleaning products.
Comfort
The StepliteX TigerGrip guarantees warm feet down to -30°C. The extra high steel safety cap is fully encapsulated in the polyurethane material of the boot shaft. Therefore toes do not come into direct contact with the protective metal top. This prevents cold sensation. In addition, the shock-absorbing heel provides soft cushioning and contributes to an extra feeling of comfort.
Bekina® Boots, founded in 1962 in Kluisbergen, develops and produces polyurethane safety boots for intensive professional use. These safety boots are used in various sectors including food, agriculture, industry and fishing. In 2017 Bekina® Boots was nominated Lion of Export. In 2019, the company had a turnover of 15 million euros and exports to 45 countries. More information on www.bekina-boots.com.
Contact details:
Bekina® Boots – booth 685
Contact Person: Manuel Rodrigues
Mobile +32 473 68 29 61
Berchemstraat 124
9690 Kluisbergen (BE)