Kelchner Food Products Announces Addition to Marinade and Sauce Product Line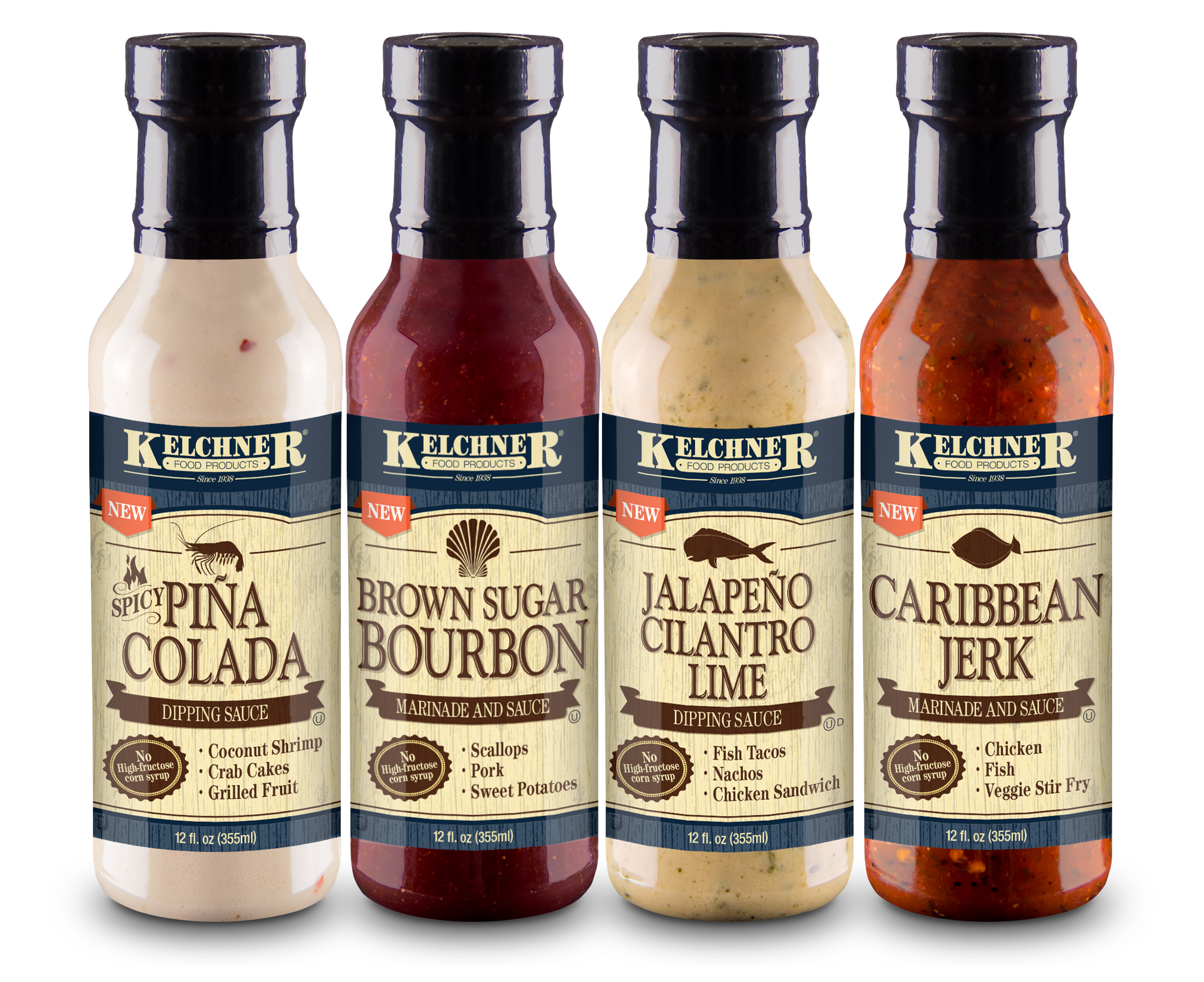 Kelchner Food Products is excited to announce the launch of four bold new flavors to their marinade and sauce family. Since 1938, Kelchner has been making delicious condiments from old family recipes for consumers who expect the best. The outstanding sales performance of their products has built a legacy of trust and loyalty that's made Kelchner's a household name. Their reputation for quality and product versatility has led to steady growth in new markets and industry recognition as the premium line of seafood sauces. Quality sauce and marinade products in your meat-seafood department not only add incremental sales, they help sell more seafood!
Introducing Kelchner's four new Marinades and Sauces:
Brown Sugar Bourbon Marinade and Sauce

Take meat, fish and poultry to the next level with the sweet and savory flavor of brown sugar and bourbon. A best-selling flavor profile.
Caribbean Jerk Marinade and Sauce

A savory blend of herbs and spices makes this marinade and sauce a favorite for Jamaican-style meats and seafood. A perennial favorite flavor.
Jalapeño Cilantro Lime Dipping Sauce

Our Jalapeño Cilantro Lime Dipping Sauce will take you on a south-of-the-border adventure in flavor. It's creamy, tangy and spicy – all in one delicious bite!
Spicy Piña Colada Dipping Sauce

Be transported to the islands with our delicious Spicy Piña Colada Dipping Sauce. It's perfect for adding savory sweetness to seafood, meats, veggies and salad dressings.
Kelchner Food Products will be exhibiting at the 2020 Seafood Expo North America March 15th-17th in Boston, MA.  Try new marinades and sauces along with the best condiments, including IRI #1 best-selling Cocktail Sauce – perfect meat & seafood! You can visit Kelchner Food Products at booth #2710.
Purchased by Silver Spring Foods, Inc. in 2009, Kelchner's also makes Horseradish, Cocktail Sauce, Hot Mustard with Horseradish, Tartar Sauce and Horseradish with Beets. Adhering to old family recipes and attention to freshness, Kelchner's produces the finest condiments for meat, poultry and seafood.
Contact:
David Daltry
Regional Sales Manager – Kelchner Brand Team
267-334-8245
7520 Morris Court, Suite 115
Allentown, PA 18106