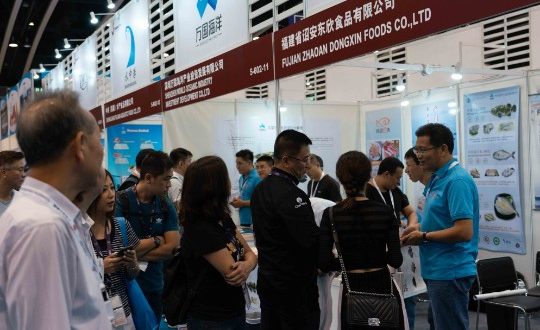 Strong Attendance at Seafood Expo Asia
The ninth edition drew thousands of buyers and exhibitors from all over the world
HONG KONG, 25 October, 2018 – Seafood Expo Asia, the premium seafood marketplace for Asia, produced by Diversified Communications, reported a successful 9th edition. The 2018 exposition took place last month and brought more than 7,580 seafood professionals from Asia and around the world.
The expo featured 224 exhibiting companies from 34 countries showcasing their seafood products to thousands of seafood representatives, distributors, importers and buyers from supermarkets, restaurants, hotels, catering companies, airliners, cruise liners, ecommerce, seafood markets and more.
During the three-day event, seafood suppliers conducted business with high-volume buyers and importers through the Business Matchmaking Program. The Business Matchmaking Program is Seafood Expo Asia's online platform, which, combined with a unique customer service assistance, provides exhibitors and buyers with the opportunity to find each other based on their selling and sourcing needs. This year, the program grew in size, participation and satisfaction. More than 90 percent of participating exhibitors successfully matched and met with high volume buyers.
"I have usually attended Japanese and Chinese seafood shows in past years. At Seafood Expo Asia, I found new companies and products that I never saw in other exhibitions, like products from Singapore, China and USA," said key buyer participant, JSB International, Co. Ltd from South Korea.
"We participated in extra events at Seafood Expo Asia, like the Business Matchmaking Program," added exhibitor Sumana Sripitak from Man A Frozen Foods Co., Ltd (Thailand).
"On the first day, we met with a potential buyer who came back with more partners the next day. So, it was good."
In addition to seeing a variety of products from international companies throughout the exhibit hall and the Product Showcase, attendees enjoyed tasting seafood in the new feature "Tasty Kitchen". "74% of visitors surveyed this year said they found new products or companies at the expo," said Mrs. Iris Kwan, Event Director of Seafood Expo Asia.
This year's exposition was complemented with a series of activities designed to enhance attendees' experience, including a comprehensive educational program with conference sessions covering the latest topics relevant to Asia's seafood market and culinary demonstrations presented by distinguished chefs.
The 2nd annual Young Chef Challenge featured eight Hong Kong culinary talents who competed in a live cook-off over the course of the three days. The two finalists of the cooking challenge were Ms. Tsz Yan Lui and Mr. Alex Chi-Ho Liu, both from Hong Kong Disneyland. They competed in the final round of cook-off on the last day of the event. Ms. Lui received the best scores from the judges and won the USD 2,000 prize while Mr. Liu took home the USD 1,000 prize presented by Special Sponsor Evergreen Conglomerate.
The 10th edition of Seafood Expo Asia will take place 3-5 September 2019 at the Hong Kong Convention and Exhibition Centre in Wanchai, Hong Kong. For more information, visit http://www.seafoodexpo.com/asia.
___________________________________________
About Seafood Expo Asia
Seafood Expo Asia is a trade event where buyers and suppliers of seafood from around the world come together to network and conduct business in the lucrative Hong Kong and Asia Pacific markets. The event's tenth edition takes place on 3-5 September 2019 at the Hong Kong Convention and Exhibition Centre in Wanchai, Hong Kong. SeafoodSource.com is the exposition's official media covering industry news year-round. The exposition is produced by Diversified Communications and is co-located with Restaurant & Bar Hong Kong. www.seafoodexpo.com/asia.
About Diversified Communications
Diversified Communications is a leading international media company with a portfolio of face-to-face exhibitions and conferences, online communities and digital and print publications. As producers of these market-leading products Diversified Communications connects, educates and strengthens business communities in over 15 industries including: food and beverage, healthcare, natural and organic, business management and technology. The company's global seafood portfolio of expositions and media includes Seafood Expo North America/Seafood Processing North America, Seafood Expo Global/Seafood Processing Global, Seafood Expo Asia and SeafoodSource.com. Established in 1949 and headquartered in Portland, Maine, USA with divisions and offices around the world, Diversified Communications remains a privately held, third generation, family-owned business. For more information, visit: http://www.divcom.com
# # #
Editor's Notes
For media interviews or to request a copy of the photographs that accompany this announcement, please contact:
USA:
Christine Pedersen, Marketing Director
Diversified Communications
Tel: +1 207 842 5488
Email: cpedersen@divcom.com