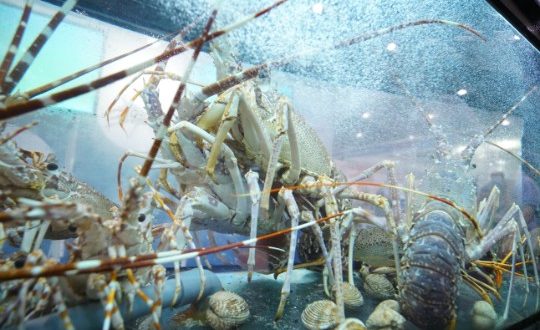 Seafood Expo Asia's Three-Day Event Starts Today: More than 220 Exhibitors From Around The World and Abundance of Seafood Products
HONG KONG, 4 September, 2018 –Seafood Expo Asia opens its 9th edition today to welcome thousands of international seafood professionals. The three-day expo is the region's leading showcase of the world's latest and best live, fresh, frozen and value-added seafood products, satisfying buyers'  sourcing and purchasing needs. As an ideal business-matching platform, visitors have the opportunity to network with worldwide suppliers and  learn about the latest seafood trends, join a series of interactive culinary demonstrations and watch the exciting annual Young Chef Challenge. Organized by Diversified Communications, Seafood Expo Asia takes place at the Hong Kong Convention and Exhibition Centre this week from 4-6 September, 2018.
This year's exposition features 224 exhibiting companies from 34 countries, including new participating countries Bulgaria, Fiji, Greece, Kiribati, Monaco, Oman, Papua New Guinea, Philippines, Romania, Solomon Islands and Tonga. Twenty-one country and regional pavilions are represented this year, with  new pavilions from China, Ireland, Korea, Japan and Solomon Islands, each showcasing their own unique, local premium products to the seafood community.
"Seafood Expo Asia attracts industry buyers from restaurants, supermarkets, hotels, catering services, importers and distributors looking to source new products and discover the latest market trends and demands," says Event Director, Ms. Iris Kwan. "According to the 2017 visitor survey results, 84% of the respondents indicated that they would attend again in 2018.  Buyers from over 65 countries in Asia, Oceania, North America, and Europe attend Seafood Expo Asia every year, which is a testament to the exposition's prominence in the seafood industry."
One of the 'must attend' areas on the exhibition floor is the Tasty Kitchen, a new event featured in the Product Showcase.  The open and engaging market-style setting Product Showcase provides a one-stop sourcing platform with all kinds of new products and best sellers brought by international suppliers. Visitors have the opportunity to taste a variety of unique seafood products from Canada, China, Fiji, Hong Kong, Japan, Netherlands, Philippines, Poland, Romania and Thailand.
Among the products presented throughout the exposition, buyers can discover some of the latest and finest products highlighted in the Product Showcase and Tasty Kitchen:
| | |
| --- | --- |
| | Alaskan King Crab  by American Indian Foods  (USA) |
| | OpenBlue Cobia Sashimi Fillet by Open Blue (Canada) |
| | Baltic Sprat by Paula Fish Slawomir Gojdz SP.J (Poland) |
| | Wild Alantic Oyster  by Wild Atlantic Shellfish Ltd  (Ireland) |
| | All Natural Fish Sausages by Fisherfarms, Inc (Philippines) |
| | Red Snow Crab by Inter Marine Corporation (Korea) |
| |  Aging Giant by Apollo Aquatic Product Grouper(Taiwan) |
| | MSC Frozen Norway SKREI (Atlantic Cod) Loin by KLG Find Food Company Limited (Hong Kong) |
| |  Rainbow Smelt by Great Lakes Food Company Ltd. (Canada) |
| | MSC ALBACORE by Golden Ocean Fish, Ltd., Golden Ocean Fish, Ltd.  (Fiji) |
| | Kuroshio Bluefin Tuna by Kochi Farmed Fish Export Promotion Association  (Japan) |
| | Pasteurized Frozen White Sand Clams (Donax Turnculus) by Bulgarian White Shell Ltd. (Bulgaria) |
| | Golden Flounder by Haeyeon Fish Farm (Korea) |
| | Two Oceans Abalone by Ocean Grown Abalone Limited (Australia) |
| | Frozen Golden Pompano by Zhanjiang Evergreen Aquatic Product Science and Technology Co. LTD. (China) |
For the full Product Showcase and exhibitor listing, please visit www.seafoodexpo.com/asia/.
___________________________________________
About Seafood Expo Asia
Seafood Expo Asia is a trade event where buyers and suppliers of seafood from around the world come together to network and conduct business in the lucrative Hong Kong and Asia Pacific markets.  The event's ninth edition takes place from the 4-6 September 2018 at the Hong Kong Convention and Exhibition Centre in Wanchai, Hong Kong. SeafoodSource.com is the exposition's official media covering industry news year-round. The exposition is produced by Diversified Communications and is co-located with Restaurant & Bar Hong Kong. www.seafoodexpo.com/asia.
About Diversified Communications
Diversified Communications is a leading international media company with a portfolio of face-to-face exhibitions and conferences, online communities and digital and print publications. As producers of these market-leading products Diversified Communications connects, educates and strengthens business communities in over 14 industries including: food and beverage, healthcare, natural and organic, business management and technology. The company's global seafood portfolio of expositions and media includes Seafood Expo North America/Seafood Processing North America, Seafood Expo Global/Seafood Processing Global, Seafood Expo Asia and SeafoodSource.com. Diversified Communications, in partnership with SeaWeb, also produces SeaWeb Seafood Summit, the world's premier seafood conference on sustainability. Established in 1949 and headquartered in Portland, Maine, USA with divisions and offices around the world, Diversified Communications remains a privately held, third generation, family-owned business. For more information, visit: www.divcom.com
# # #
Editor's Notes
For media interviews or to request a copy of the photographs that accompany this announcement, please contact:
Hong Kong:
Ruby Cheung
Cred Communication Limited
Mobile: 6742-9372
Email: ruby@credcommunications.com
USA:
Jonathan Bass
Diversified Communications
Tel: +1 207 842 5563
Email: jbass@divcom.com