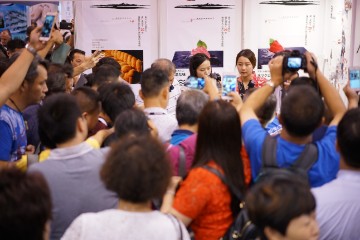 Seafood Expo Asia to highlight market trends of APAC seafood market and showcase seafood from across the world
HONG KONG, 24 August 2018 – The 9th edition of Seafood Expo Asia organized by Diversified Communications will open its doors in less than two weeks with an exciting line up of expert speakers and exhibitors from around the world including Bulgaria, France, Korea, Spain, Thailand and the USA.  Visitors will discover the latest trends, source all types of seafood products and do business with the global seafood community through the many networking opportunities at the expo— taking place 4-6 September at the Hong Kong Convention and Exhibition Centre.
Seafood Expo Asia offers a wide range of activities alongside the trade exhibition to further enhanced participants' experience with their sourcing and purchasing needs for fresh, frozen and processed seafood.  This year's event will feature an inspiring open market-concept Product Showcase, which will highlight a new "Tasty Kitchen" where buyers will be able to taste seafood products from around the world by  sampling some of the exhibiting products.
The Demonstration Theatre will host a series of culinary demonstrations by professional chefs who will explain how to prepare special seafood species and the best way to consume them. The 2018 Young Chef Challenge, scheduled every day during the exposition, will spotlight eight young chefs eager to show off their culinary talents by using sustainable seafood species to create their dishes. The judging panel, consisting of Mr. Gerhard Passrugger, Executive Chef from Grand Hyatt Hong Kong, Mr. Pedro Samper, Executive Chef from The Langham Hong Kong, Miss Vicky Lau, Chef and Owner of Tate Dining Room & Bar, and the event ambassador Gabriel Choy, will deliberate on the winning contestant, which will be announced on the last day of the event (6 September 2018).  Celebrity chef, Christian Yang, will also be joining the Young Chef Challenge as guest judge and host a master class on 4 September to demonstrate one of his creative seafood dishes.
The latest industry insights will be revealed by global industry players and professionals during the two-day conference program, which will be presented in the Conference Area. Euromonitor International, one of the world's leading providers for global business intelligence and strategic market analysis will uncover the untapped business potential of processed seafood in Asia Pacific, while IGD (The Institute of Grocery Distribution) will present the changing face of retail in Asia, covering Asia's grocery market development, trends, new retail innovation and best practice on fresh seafood in-store.  Guangdong Evergreen Group will highlight how technology in aquaculture will ensure production of quality and safer seafood, Eachmile Technologies Pte, Ltd will examine blockchain application for data ecosystem for the global seafood industry. A panel discussion, led by SeafoodSource's editor, Chris Chase, and fellow panelists from Grand Hyatt, KLG Fine Food, ADMCF and Dah Chong Hong will explore the business opportunities and consumer trends in Asia within the realm of sustainable seafood.
Conference
Highlighted Topics
Speakers
Discover The Untapped Business Potential of Processed Seafood in APAC

Seafood Innovation Best Practice: The First Ever Yellowfin Tuna Slices

Ms. Mandy Chan, Analyst, Euromonitor

Dr. Tunyawat Kasemsuwan, Group Director for Global Innovation, Thai Union Group PCL

Creating A Data Ecosystem for the Global Seafood Industry
Alistair Douglas, Partner, Eachmile Technologies Pte. Ltd
The Changing Face of Retail in Asia

IGD (The Institute of Grocery Distribution)
What's the Catch – Knowing Your Fish

Shrimp & Tuna

Royal Shrimp & Pacific Islands Forum Fisheries Agency (FFA)
Technology for Safer and More Sustainable Aquaculture

Sustainable Seaculture Development in Vietnam and Future Opportunities

Guangdong Evergreen Group

Vietnam Seaculture Association

Sustainable Seafood Business Dialogue: Consumer Trends
Moderate by SeafoodSource. Panelists include: Grand Hyatt Hotel Hong Kong, KLG Fine Food, ADMCF, Dah Chong Hong Ltd.
Culinary Demonstrations
| | |
| --- | --- |
| Highlighted Topics | Sponsored by |
| Galician Seafood | Conselleria do Mar – Xunta de Galicia |
| Australian Green Lip Abalone | Ocean Grown Abalone |
| Alaskan Seafood – Wild Caught, Sustainable Seafood | American Indian Foods |
With over 200 exhibiting companies from more than 30 countries, this year's Seafood Expo Asia will offer attendees opportunity to access authentic up-to-date business information and view and taste seafood products from around the world. Newly exhibiting countries in 2018 include: Bulgaria, Fiji, Greece, Kiribati, Monaco, Oman, Papua New Guinea, Philippines, Romania, Solomon Islands and Tonga. They will be joining Thailand, Korea, USA, Spain, France and Taiwan that are among the 21 returning country pavilions.  Trade visitors will also be able to explore seafood from the newly added pavilions from Ireland, China, Japan and Solomon Islands.
For more information or to register a free trade pass, please visit www.seafoodexpo.com/asia.
___________________________________________
About Seafood Expo Asia
Seafood Expo Asia is a trade event where buyers and suppliers of seafood from around the world come together to network and conduct business in the lucrative Hong Kong and Asia Pacific markets.  The event's ninth edition takes place from the 4-6 September 2018 at the Hong Kong Convention and Exhibition Centre in Wanchai, Hong Kong. SeafoodSource.com is the exposition's official media covering industry news year-round. The exposition is produced by Diversified Communications and is co-located with Restaurant & Bar Hong Kong. www.seafoodexpo.com/asia.
About Diversified Communications
Diversified Communications is a leading international media company with a portfolio of face-to-face exhibitions and conferences, online communities and digital and print publications. As producers of these market-leading products Diversified Communications connects, educates and strengthens business communities in over 14 industries including: food and beverage, healthcare, natural and organic, business management and technology. The company's global seafood portfolio of expositions and media includes Seafood Expo North America/Seafood Processing North America, Seafood Expo Global/Seafood Processing Global, Seafood Expo Asia and SeafoodSource.com. Diversified Communications, in partnership with SeaWeb, also produces SeaWeb Seafood Summit, the world's premier seafood conference on sustainability. Established in 1949 and headquartered in Portland, Maine, USA with divisions and offices around the world, Diversified Communications remains a privately held, third generation, family-owned business. For more information, visit: www.divcom.com
# # #
Editor's Notes
For media interviews or to request a copy of the photographs that accompany this announcement, please contact:
Hong Kong:
Ruby Cheung
Cred Communication Limited
Mobile: 6742-9372
Email: ruby@credcommunications.com
USA:
Jonathan Bass
Diversified Communications
Tel: +1 207 842 5563
Email: jbass@divcom.com