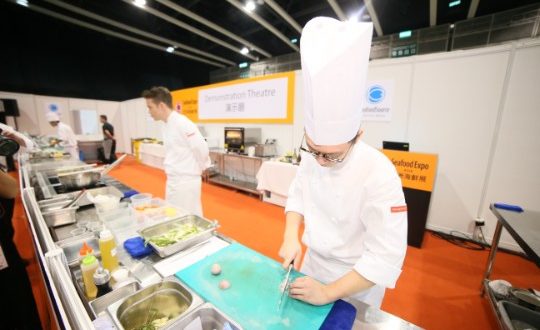 Young Chef Challenge to Highlight Sustainable Seafood at Seafood Expo Asia in September
Young Chef Challenge to Highlight Sustainable Seafood at Seafood Expo Asia in September
HONG KONG, 7 June 2018 – Diversified Communications' Seafood Expo Asia will return to the Hong Kong Convention and Exhibition Centre on 4-6 September, 2018. Seafood Expo Asia is the region's leading showcase of the world's premium seafood products, equipment and services as well the preferred industry meeting place for buyers and suppliers to find the latest seafood trends. One of this year's key events is the highly-anticipated live Young Chef Challenge, which takes place during the show and aims to nurture young talent and highlight sustainable seafood options.
Last year, Seafood Expo Asia attracted over 7,100 qualified seafood professionals with visitors coming from 69 countries and 234 exhibitors from 31 countries. "As well as providing the top marketplace for buyers from across the world to source fresh and frozen seafood, we are looking forward to offering visitors and exhibitors a wide range of activities to help grow their business," says Group Vice President from Diversified Communications, Mrs. Liz Plizga. This year's event will feature a Product Showcase and Tasty Kitchen to inspire buyers with sourcing ideas as well as getting a taste of what's trending in the international seafood marketplace. A conference program with daily sessions, culinary demonstrations and masterclasses will focus on the latest market insights and emerging products making waves across the global seafood industry to enhance attendees' experience.
According to the latest figures from the Food and Agriculture Organisation of the United Nations, Hong Kong had the second highest per capita seafood consumption in Asia. "Knowledge about sustainable seafood choices is very important, especially to new chefs in the foodservice industry. Seafood Expo Asia's Young Chef Challenge provides young chefs with an opportunity to show off their skills while learning about sustainable seafood options. Rounds of exciting live cook-off using specially selected seafood will be held throughout the event," adds Mrs. Liz Plizga.
Executive Chef of Grand Hyatt Hong Kong, Mr. Gerhard Passrugger, is one of the judges of the Young Chef Challenge and a food sustainability enthusiast: "Educating young chefs early about sustainable seafood is extremely important. I am proud to be a judge for the Young Chef Challenge as it both inspires chefs to choose sustainable options as well as rewards their culinary skills. The competition's message is aligned with our goals which is to ensure that more than 50% of our seafood comes from sustainable seafood sources by end of 2018."
Launched in 2017, the Young Chef Challenge is a unique event to recognize the next generation of culinary talent in Hong Kong. The competition encourages culinary mentorship and provides opportunity for aspiring culinary chefs to discover and further develop their skills. This year, celebrity chef, Mr. Gabriel Choy will be the ambassador for the event, promoting this extraordinary cooking challenge. And the judging panel brings together top culinary experts including Mr. Gerhard Passrugger, Executive Chef from Grand Hyatt Hong Kong, Mr. Pedro Samper, Executive Chef from The Langham Hong Kong, and Miss Vicky Lau, Chef and Owner of Tate Dining Room & Bar. They will choose the most outstanding contestant after three rounds of onsite cook-offs.
___________________________________________
About Seafood Expo Asia
Seafood Expo Asia is a trade event where buyers and suppliers of seafood from around the world come together to network and conduct business in the lucrative Hong Kong and Asia Pacific markets.  The event's ninth edition takes place from the 4-6 September 2018 at the Hong Kong Convention and Exhibition Centre in Wanchai, Hong Kong. SeafoodSource.com is the exposition's official media covering industry news year-round. The exposition is produced by Diversified Communications and is co-located with Restaurant & Bar Hong Kong. www.seafoodexpo.com/asia.
About Diversified Communications
Diversified Communications is a leading international media company with a portfolio of face-to-face exhibitions and conferences, online communities and digital and print publications. As producers of these market-leading products Diversified Communications connects, educates and strengthens business communities in over 14 industries including: food and beverage, healthcare, natural and organic, business management and technology. The company's global seafood portfolio of expositions and media includes Seafood Expo North America/Seafood Processing North America, Seafood Expo Global/Seafood Processing Global, Seafood Expo Asia and SeafoodSource.com. Diversified Communications, in partnership with SeaWeb, also produces SeaWeb Seafood Summit, the world's premier seafood conference on sustainability. Established in 1949 and headquartered in Portland, Maine, USA with divisions and offices around the world, Diversified Communications remains a privately held, third generation, family-owned business. For more information, visit: www.divcom.com
# # #
Editor's Notes
For media interviews or to request a copy of the photographs that accompany this announcement, please contact:
Hong Kong:
Ruby Cheung
Cred Communication Limited
Mobile: 6742-9372
Email: ruby@credcommunications.com
USA:
Jonathan Bass
Diversified Communications
Tel: +1 207 842 5563
Email: jbass@divcom.com